It was a day filled with boundless potential emanating from the children.
As part of the "DigitALL" initiative launched in March, DAL participated in the "Family Day" event hosted by Digital Garage (DG) on August 4, 2023. This internal event at DG allows employees to introduce their family members to their workplace, fostering a deeper understanding and appreciation of their roles and responsibilities.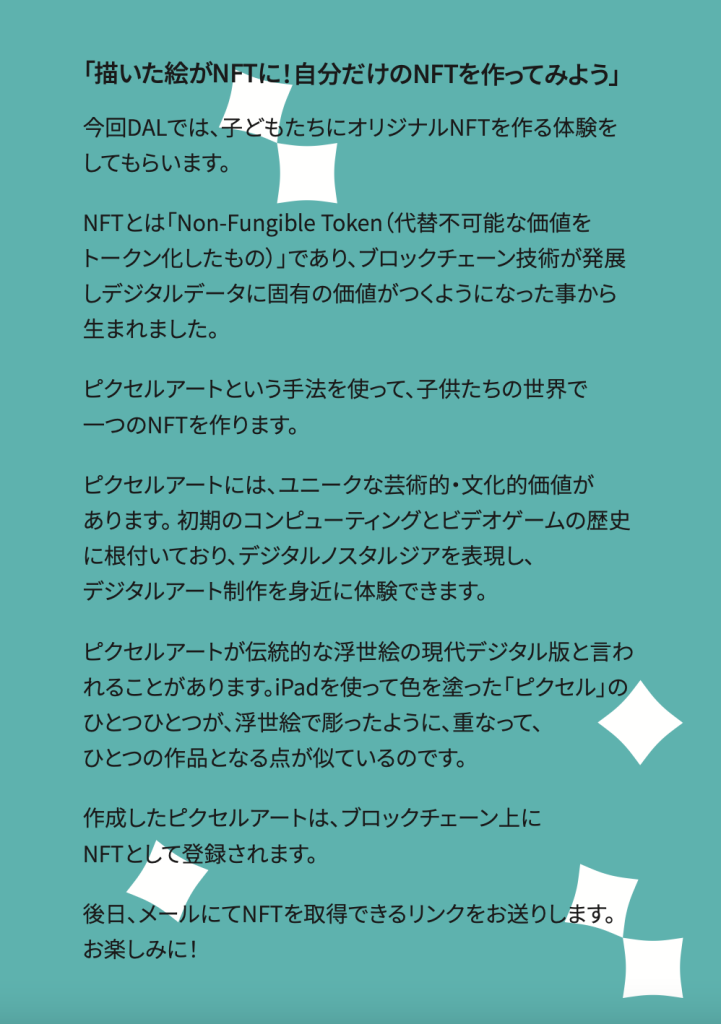 This year, DAL hosted a workshop during the Family Day titled "Create Your Very Own NFT". Children were given the opportunity to use tablets to craft pixel art, which was later registered on the blockchain as a Non-Fungible Token (NFT). This activity allowed the young artists to mint their very first NFTs designs.
We chose pixel art because it carries unique artistic and cultural value. With roots in early computing and video game history, pixel art captures a sense of digital nostalgia while also providing an accessible entry point for digital art creation. Pixel art can be viewed as a modern, digital version of traditional Japanese ukiyo-e, where every carved block plays its part in the final print. Similarly, each pixel, individually chosen and colored on the tablet, contributes to the creation of distinct digital art pieces.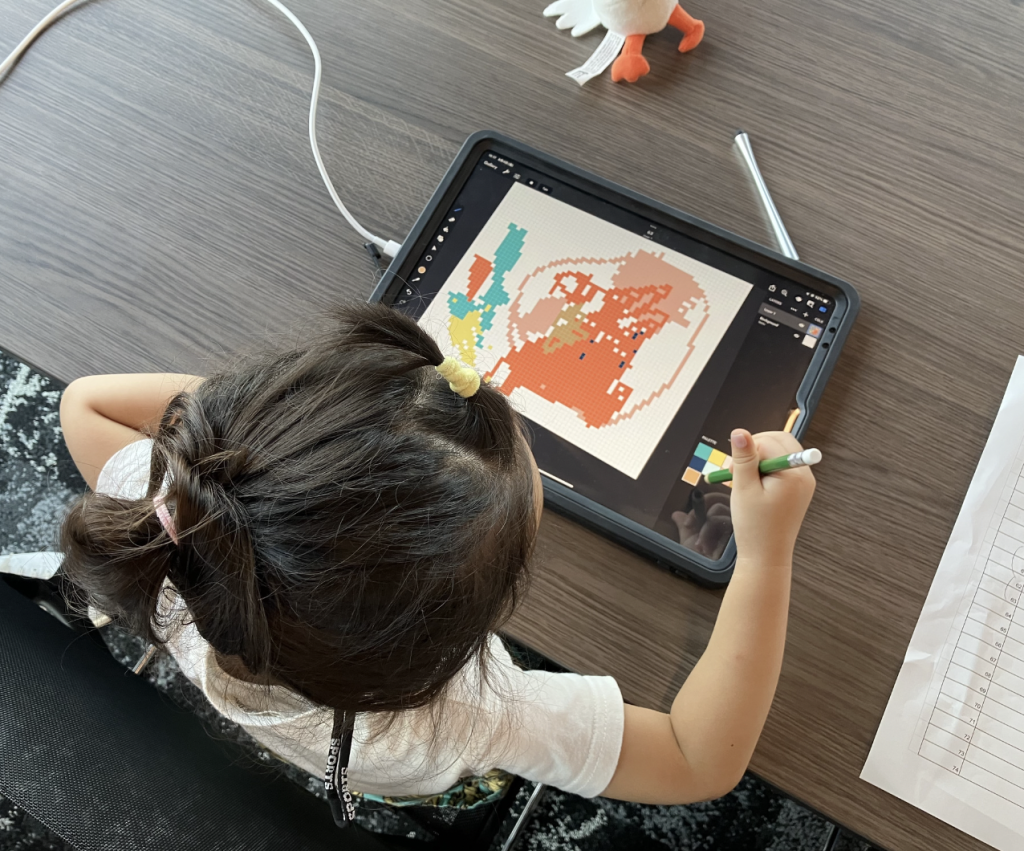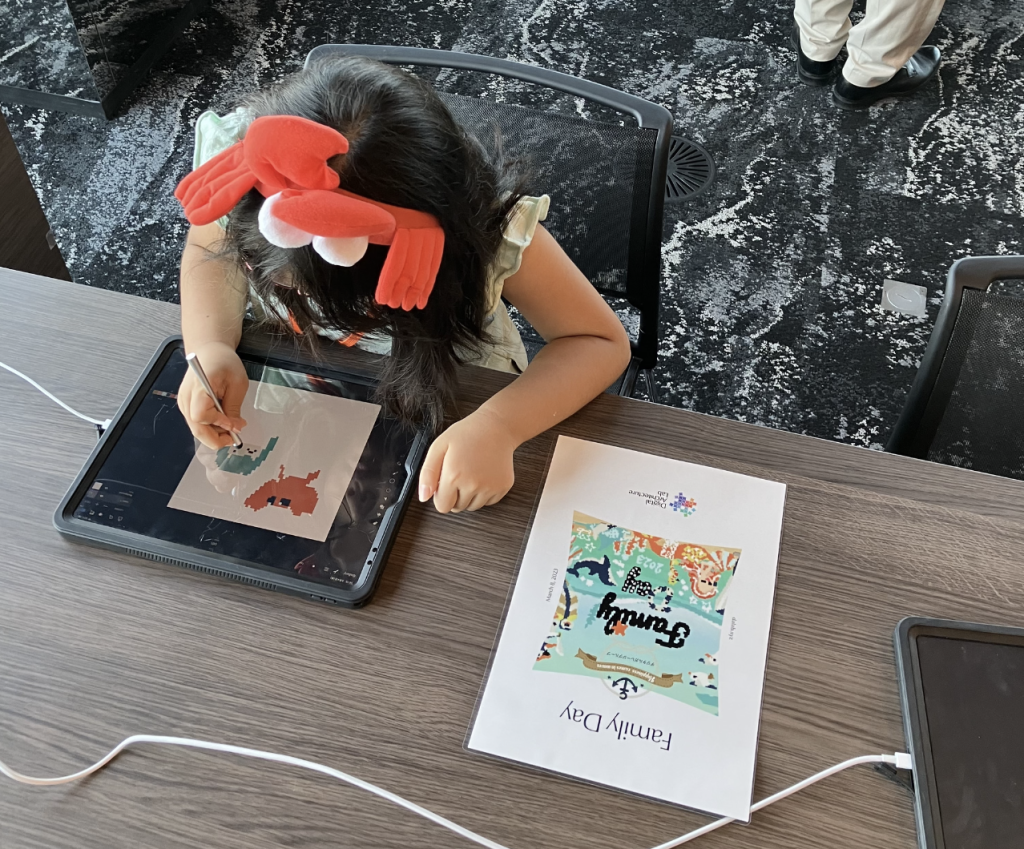 We merely provided tablets with painting software and refrained from giving any other guidance, allowing the children's creativity to flow unhindered. The outcomes were varied – While some created vibrant pixelated pieces, others opted for minimal drawings with ample white space. The subjects were also varied, with some depicting human figures and others crafting abstract images. Each child worked at their own pace: some completed their pieces in just a few minutes, while others indulged in a more prolonged creative process. Regardless, through this experience, I sensed infinite creativity and opportunities emanating from the children freely expressing themselves. This opportunity allowed me to truly appreciate and experience the importance of diversity, further reinforcing DAL's emphasis on 'Authenticity'.
In addition to the Pixel Art NFTs, we also introduced POAP for this year's DG Family Day. The design of the POAP used the theme image of this year's event, incorporating our soft pixel art.
I believe events like Family Day, where kids and family members can visit the office, are invaluable. Such visits not only help them feel closer to their family's workspace and included in the culture but also kindle more interest in the professional lives of their family members. Support from families is essential for all employees, and an event like this provides a wonderful opportunity for families to learn and respect each other more.
Moreover, this was an opportunity for us to highlight DAL projects and reflect the spirit of 'DigitALL'. We are looking forward to hosting more such events in the near future.
---

Madoka Tachibana is the Team Assitant at DAL (madoka@dalab.xyz)