Part 3 (and final) of our retreat series looks back at the role that design played in our retreat. One of the main goals of the retreat was to bring together people working remotely and allow a physical space for them to interact and ultimately help them gain a sense of belonging (or 'teamship' as one of the colleagues remarked). So there was an important role for design to play in terms of creating the sense that we're all here as a team, helping everyone make the transition into the retreat mode, temporarily moved away from the hustle and bustle of everyday life.
Part 3 (and final) of our retreat series takes a look back at the role design and experience played in our retreat. One of the primary objectives of the retreat was to unite our remote-working folks and provide a tangible space for interaction, fostering a strong sense of belonging—or 'teamship,' as a colleague put it. Design had a significant part in crafting an environment that reinforced our collective presence and eased everyone into retreat mode, away from the daily grind.
Our brand designer, Soryung Seo, offers some insights into the design process.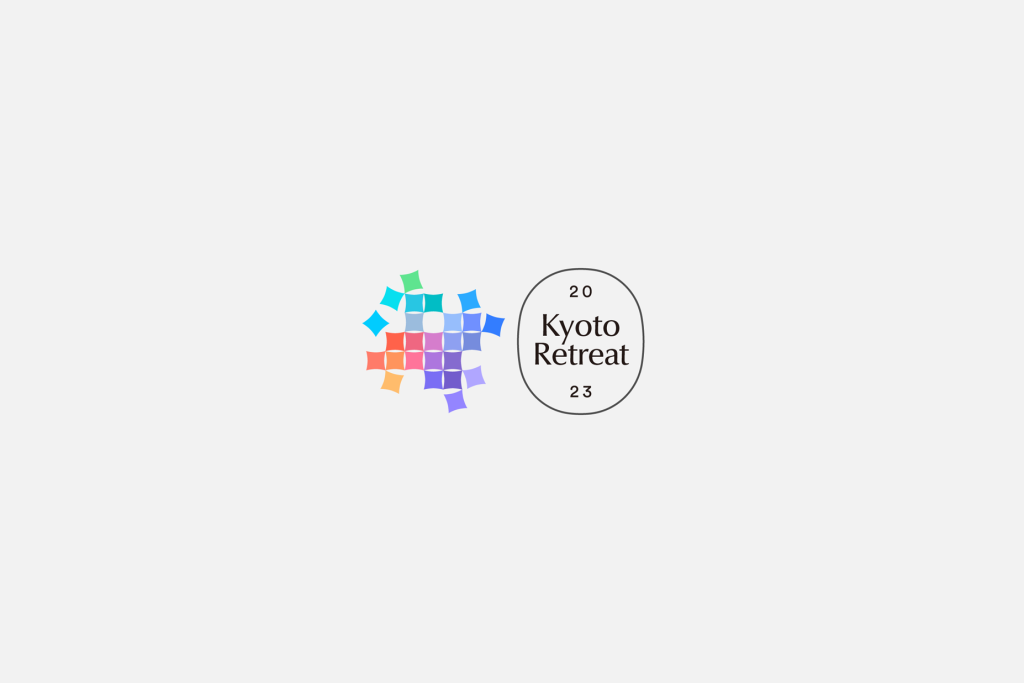 What was the thought process behind the design? How did you come up with the logo?
Obviously the main inspiration we could use was Kyoto, yet it proved challenging to encapsulate it visually—both in finding a representative element of Kyoto and in our determination to steer clear of orientalism. So I opted for a simple combination of the DAL logo followed by a wordmark. This approach has the advantage of allowing us to repurpose the design for future retreats with minor text adjustments while ensuring consistency.
The hand-drawn pattern in the background represents DAL's belief in humanistic values. This was an excellent opportunity for us to build upon the visual identity Pentagram established some time ago, adding our own twist.
All in all, the concept I started with was 'the retreat as a brand.' I wanted our logo and goodies to act as a constant reminder of what DAL represents as well as our purpose in Kyoto, which was to allow the team to embrace and experience DAL's slogan, "designing the new digital sensibility'.
The logo was envisioned to be a central feature of all the goodies we produced, making the occasion feel unique. By using this logo consistently throughout the retreat, we aimed to foster a unique sense of unity.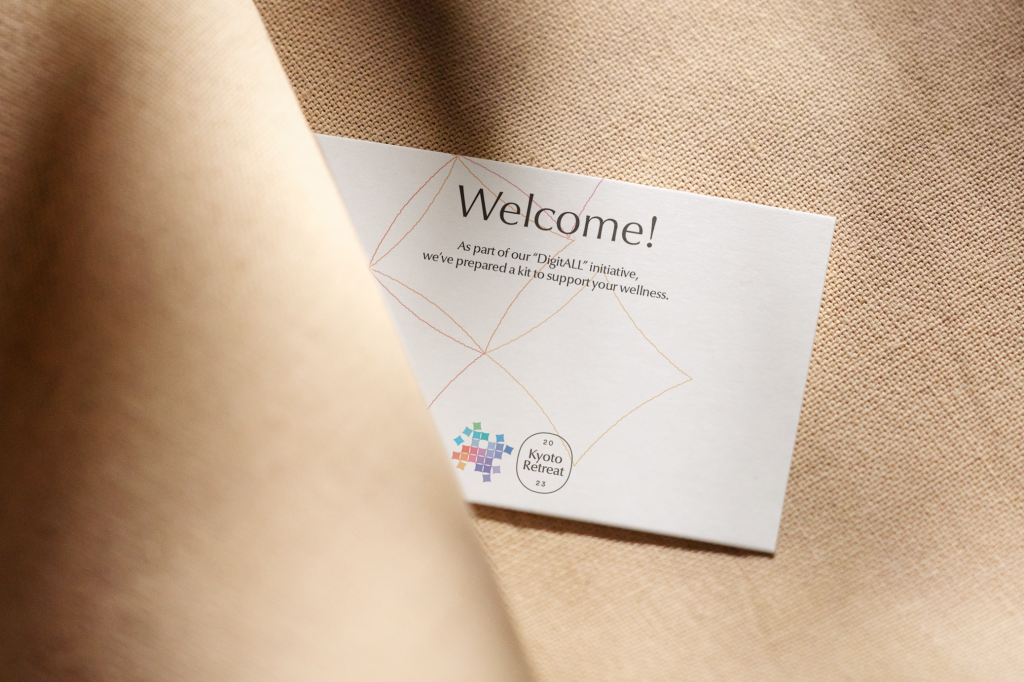 Can you walk us through the merchandise planning process?
We started off by sitting down and brainstorming: what do we want to give our team members? What fits the retreat theme and what's useful for a summer in Kyoto? Ideas quickly came, and soon our list was overflowing. The tough part was to narrow it down to the must-haves, all while keeping an eye on our budget 😅. It was an intense, but rewarding process.
First things first, we wanted our gifts to really represent the retreat. We'd just whipped up a new logo for it, so we were looking for something that matched that vibe. Something to remember our time together by – but also something they'd actually use
DAL didn't have business cards yet. So, we thought, why not make this the moment to introduce them? We stumbled upon these awesome NFT business cards that you can share just by tapping to your phone. This seemed an innovative way to foster a sense of belonging, and the best part – no waste!
We also recognized the need for a bag to carry the various goodies we planned to distribute. (As you can see below, we prepared quite a lot of goodies to give out) Envisioning something like a Santa's magical bag, I conceptualized a light, practical tote bag design.
At DAL, we value individuality and we know that each team member's unique story is what makes us who we are. So I imagined creating a 'movement' that reflected this ethos, which led to the production of business cards and tote bags, each in different colors for individual team members. Having a distinct design for each person was exciting for everyone. It was beautiful to see the array of unique colors and shapes coming together.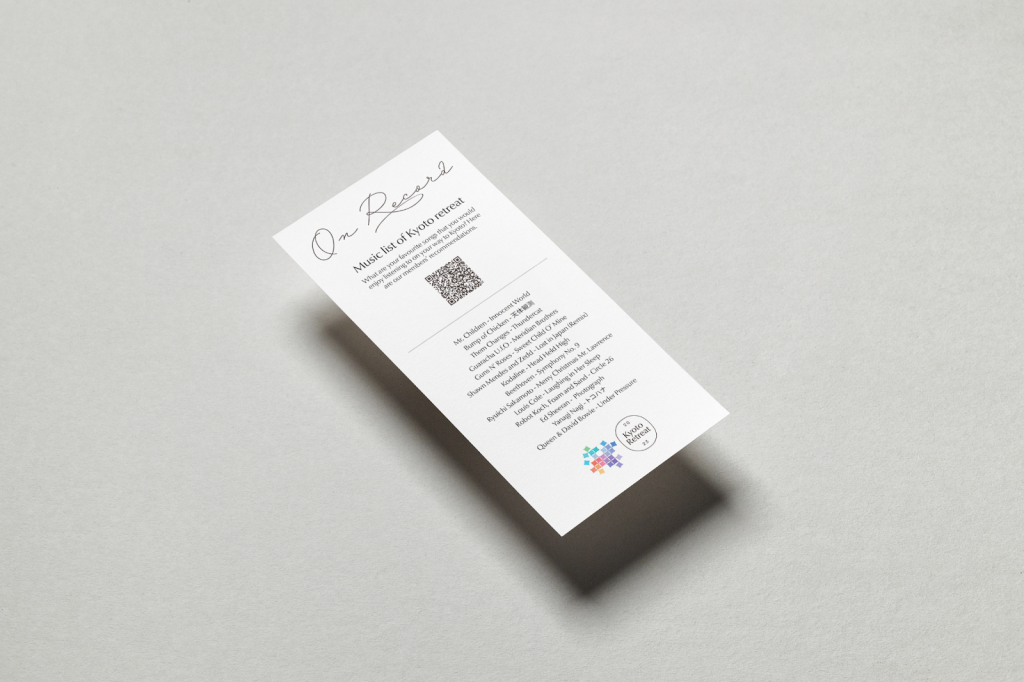 On top of that, of course, we were there for a company workshop, but at the same time, we wanted to make sure that our members were well-rested and able to enjoy some quality me-time on this trip. Kyoto in July is very hot, so we thought of a few cool things to help everyone stay comfy and add a little extra happiness to their day. Items such as:
Water bottle (hydration is key!)
Mini fan (a lifesaver in the heat)
Notebook (for those spur-of-the-moment ideas)
Sleep oil (for ultimate relaxation)
Chocolate (because, chocolate!)
Music list (tunes for every mood)
Bath bomb (for those spa vibes)
Face mask (K-beauty on point!)
Lip balm (a bit of everyday luxury)


Last but not least, we crafted a welcome card to go with all of this. Inside, we wrote what gifts we had prepared and why we chose them. We wanted it to feel like a personal letter, so we handwrote each person's name on their card. Totally DAL style, and the perfect finishing touch to our gift bundle.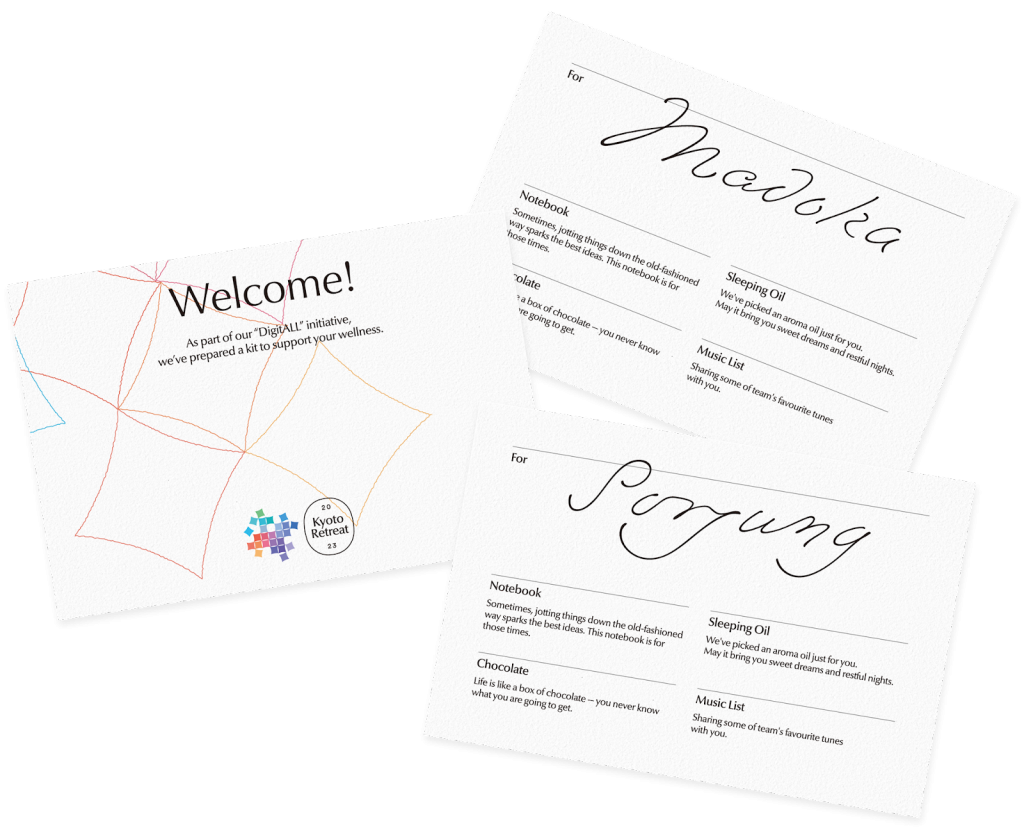 It looks like you put a lot of thought into the gift-giving process!
I think it's as much about the process as it is about the content. So, when we were selecting gifts, we also considered how to present them. Our idea was to set them up in each person's hotel room, like a special amenity. Imagine walking into your hotel room to find these thoughtful gifts waiting for you. It's almost like the retreat itself is being presented as a gift. I thought this was a wonderful way to convey our welcoming, warm DAL hospitality.
Initially, we wanted to scatter the gifts around the room, creating a treasure hunt vibe. However, we realized that in a small room, this could be overwhelming and it might not create that 'wow' moment when you see everything at once. So, we decided it was better for our members to have all the gifts grouped together. We carefully considered how they would use them in the room and split the placement into two areas: the bed and the bathroom. We placed a gift on the bed, accompanied by a welcome card, so when they walked in, they immediately felt like they were receiving a gift.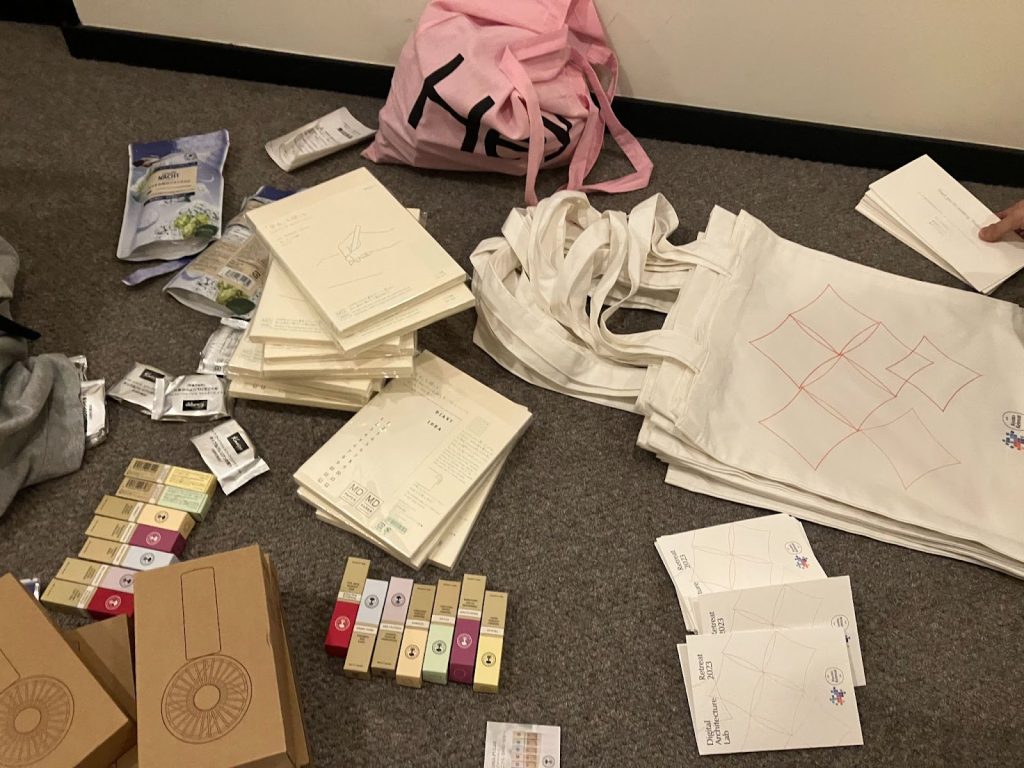 Reflections on the design process and areas to improve for the next retreat
Our focus on the interaction in the hotel room caused us to overlook the very first interaction at the venue! Leaving goodies on the reception table for colleagues to collect led to some confusion. Additionally, we should have taken the time to explain the purpose behind the goodies, as not everyone read the instructions provided.
Overall I think the personalization theme was successful, and, given the budget constraints and limited prep time, we did well as a team. For the next retreat, I aim to conduct more in-depth research into production processes and materials used for the goodies to better express DAL's values.



---

Soryung Seo is the Brand Designer at DAL (soryung@dalab.xyz)
& Joseph Park is the Content Lead at DAL (joseph@dalab.xyz)